Affiliate Program | Metis Lashes
Do you love lashes, makeup, or sharing on your social media, like Instagram, Facebook?We're currently looking for affiliates to work with!
If you love lashes then we love you, and we want to work with you.  Our affiliate program offers real time reporting, quick commission payments and a seamless user experience.
It's perfect if you're looking to earn a little extra cash from your blogging, vlogging or social media activities.

Join our Affiliate Programme in sharing our high-quality and affordable lashes with your followers, friends, or family.
Let's wear Metis Lashes, and show eye makeup beauty to the audience. And we do believe that a pair of false lashes can highlight your makeup to the next level!
100% real mink fur lashes, made of mink fur with free cruelty
100% hand-made, and each pair of mink lashes are handcrafed by our experienced lash artists
100% reusable, and our mink lashes can be reused up to 25 wears if you can protect them well
100% healthy & safe, and we use the natural cotton lash band, and comfortable for you guys to wear 
Over 500 different styles, we have many different styles of mink lashes, varied in different lengths, curls, thicknesses, and also colored mink lashes. 
OEM packaging with private label, to support smalll lash business. 
Affiliate Program at Metis Lashes
Are you a blogger, makeup enthusiast or just enjoyable with a huge following who loves our Metis lashes.
Then why not show our lash brand and products to the world for a reward?
We have the best price and the best lashes! 100% satisfied or 100% refund!
1. We can offer one pair of free lashes for you to review.
3. Getting endless commission
Send information via this email: marketing@heymelashes.com for details If you are interested in.
Makeup Artist Program
Are you addicted to the makeup in your daily life? Here is the good chance for you to get your favoite lashes at the reasonable prices, and get more discounds and coupons at the same time!
To support more makeup artists or beauty bloggers to develop their wonderful careers, and our affiliate program commission will from 10% to 15% nowadays.
Here at Metis Lashes we adore our talented makeup artist and are pleased to provide all approved professional makeup artists worldwide a 15% discount to stock up and enjoy our beautiful lashes.
Our goal is to encourage and promote the use of false lashes and what better way than a discounted price. Approved members will be enjoying the following rewards and benefits:
15% affiliate program commission for approved makeup artists If you are interested in joining our program!
Please email us a copy of your certificate to marketing@heymelashes.com
Once you have been approved you will be provided with your special discount code to be used at checkout.
How to start your 
Affiliate Program at Metis Lashes?
Yay, it is also important for you guys how to start your affiliate program, and here is the tutorial step by step. 🥰
Click here or copy and paste the URL: https://metislashes.affiliatery.staqlab.com/partner/signIn to sign up to our affiliate program now. Once signed up, be sure to apply for our program so you can start driving traffic and sales.
This is the tutorial showing you how to join in our affiliate program, step by step.
1. Register an affiliate account
Here we use the affiliate app for affiliate program at Metis Lashes. 
Please click the link below to start your affiliate program for our Metis Lashes, easy and fast!
https://metislashes.affiliatery.staqlab.com/partner/signIn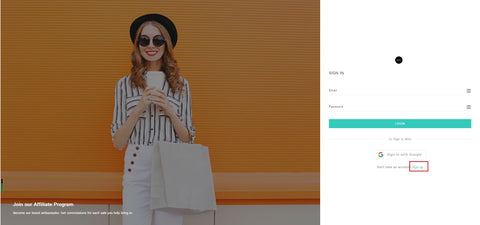 Here are 2 methods for you to sign up to get your affiliate account, you can sign in with your Google account, this is easy and fast; and you also can sign up with your other email if you don't have Google. 
2. Sign up Affiliatery
Just click "Sign Up" to start to register your account. 

And then fill in the blanks to give your basic information, including your username, email, and password, please remember your password. 
Then you will get to the dashboard of the Affiliatery app. 
3. Get your affiliate link 

Here you can select your favorite lashes from our online store, Metis Lashes, copy and paste the link of single product here, and then you will get Your Referral link generated by the original link of our single product. 
4. Promote Your Referral link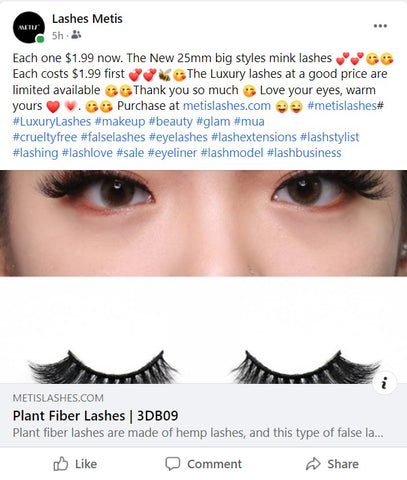 So you can start to promote Your Referral link, you can share Your Referral link to promote Metis Lashes. 
You can embed Your Referral link in many platforms you like, you can embed Your Referral link in your Youtube description part below your Youtube video. 
You can post the images or videos of our lashes on your social media, like Instagram, Facebook, etc. 
4. Get your commision! 

Our commision is up to 15% for each sales, and we can give you the payment via PayPal for your lash promotion sales!
Why not start now! Come and join us together to enjoy Metis Lashes, and welcome to contact us for more detailed information about our affiliate program! 
If you have any questions about promoting our products as an affiliate, please contact marketing@heymelashes.com and we'll be glad to assist you further!
✅ Benefits of our Affiliate Program:
| | |
| --- | --- |
| Cookie days |  30 days |
| Commission type |  Percent Of Sale |
| Commission amount |  15.00% |
| Additional terms | You will get 15% commission on total referral sales when a customer makes a purchase through your affiliate link or use your coupon code. |
Email: marketing@heymelashes.com
WhatsApp: +8615763318474